Artist Biography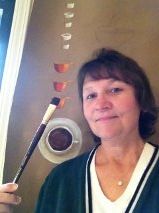 Deborah Kyle Hintergardt grew up on a midwestern grain farm. This is where her love for all things country originated. Her mother was a singer and an artist working in oils, acrylics, water color, and china painting. Deborah would sit and watch her mother paint and then began experimenting with many of these mediums herself.

In 1976, Deborah left the farm to pursue a singing career receiving both a B.A. and an M.M. in vocal performance. She spent 3 years living in Rhode Island before marrying and settling in Los Angeles for 13 years. The desire for a return to rural life motivated her to find an outlet for self-expression and a venue for experiencing that life once again. She began painting vibrantly colored country landscapes while still living in L.A., but in 2004 she moved to the landscape of her dreams...the Central Coast of California. She now resides amidst oak studded hillsides, vineyards and large working ranches. Drawn by the richness of rural subject matter she raises rusted farm equipment, weathered structures and domestic animals to idealistic heights with her vibrant acrylic paintings on wood panel.

Deborah is a signature member of the International Society of Acrylic Painters, and President of the Atascadero Art Association .
Her work is on exhibit at various art shows throughout California.